If you are en route to the Garden Isle for a romantic getaway, you're in for a real treat. Beautiful expansive beaches, lush tropical forests, delicious ocean view restaurants, and exciting experiences all await your arrival.  If you aren't sure where to go when you arrive, there's no need to worry! We've cultivated a list of some of the most romantic things to do in Kauai, and we have to admit, they are all completely worth the travel.
Romantic Beaches on Kauai
(Secret) Kauapea Beach

Between Kalihiwai Bay and Kilauea point, this exclusive beach can be accessed by a steep unmarked trail. Once you hit the expansive soft white sand, you'll feel like it's just you and your significant other on the beach. Be forewarned, this beach is not recommended for swimming because the ocean tends to be very rough. But, when conditions allow, you can find tidal pools known as the Secret Lagoons! Even more, if you take the rocky coastline east you can find a beautiful waterfall. How much more romantic can it get?

Maha'ulepu Beach

Beautiful golden sand tickles your toes on this remote windswept coast. If you and your sweetie are the explorer type, make sure you check out the lava tubes, sandstone cliffs, blow holes, and isolated coves.
Romantic Overlooks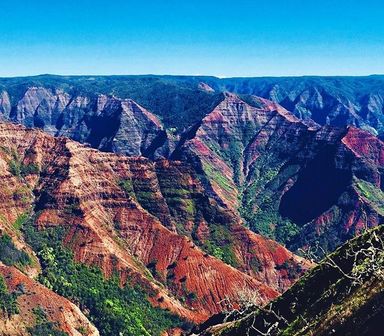 Waimea Canyon

Known as the Grand Canyon of the Pacific, Waimea Canyon is an incredibly romantic area for you to explore due to the absolutely gorgeous views of a colorful array of red, brown, and green hues formed by erosion from the Waimea River. The adventurous couple can hike through the canyon to access unmatched views, but if you are not up for a hike, simply drive to the lookouts Puu ka Pele and Puu hinahina – both have parking and breathtaking views.
Romantic Dining Options
Postcards Café

If you're looking for a small, family owned restaurant, Postcards Café is the place for you! Their menu boasts fresh fish and organic island grown produce only, which makes this perfect for any vegan diner out there.

Sam's Ocean View

Romantic views galore! Sam's Ocean View is exactly what it sounds like: an ocean view restaurant that serves delicious island fresh cuisine. If you're headed here, make sure you arrive early! Ocean view seats are first come, first serve.

Romantic Brunch: NOM Kauai

Breakfast can definitely be romantic, especially when you eat at NOM Kauai! Owned by a married couple that moved to the island to follow a dream, NOM Kauai has grown in popularity over the years due to its fantastic flair for southern cuisine/comfort food fused with Kauai's staple flavors.
Romantic Adventures in Kauai
Holo Holo Charters Na Pali Sunset Cruise

Hop on board this 65' catamaran for a romantic sail around the Na Pali Coast! You and your partner will enjoy dinner, drinks, and a spectacular view of the absolutely gorgeous Kauai sunsets.

Horseback Riding, Picnic & Waterfall Swim at Princeville Ranch

What could be more romantic than waterfalls and horseback rides? This 3 hour journey takes you through breathtaking panoramas and lush jungles. Once you arrive at your destination, you'll tie up the horses and head downhill to a beautiful secluded waterfall where you can explore, swim, or relax and enjoy a picnic lunch. Once you're done at the waterfall you're in for a leisurely ride back to through beautiful open pastures.

Princeville Botanical Gardens

You're in for a romantic 3 hour guided tour of beautiful lush gardens. You'll get to learn about the cacao tree and history of chocolate making while sampling delicious gourmet chocolates from around the world! You'll want to tour these gardens, as the local flora and fauna have flourished under the care of this husband and wife team. They have a diverse range of plants, make their own chocolate, and make honey on-site!
From beautiful secluded beaches to tasting chocolate made on the island, there is no limit to the amazing, romantic things you can do while you're visiting Kauai. Vacation at Hanalei Bay Resort for the perfect romantic Hawaiian getaway. Book online or call (877) 344-0688.