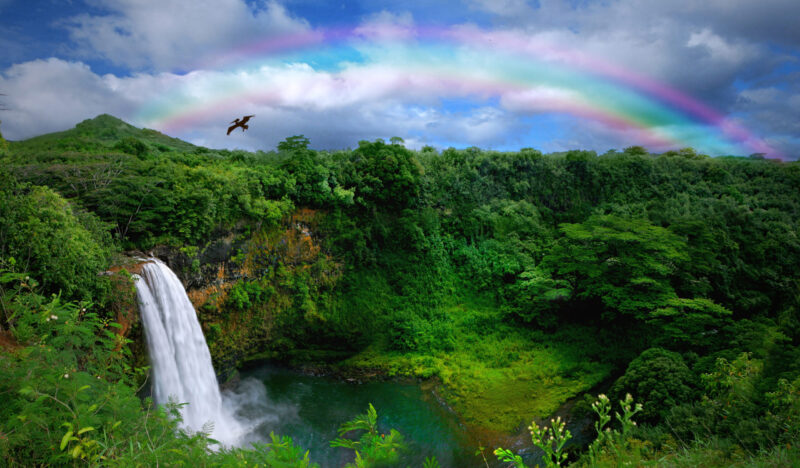 There are many reasons to travel to the beautiful island of Kauai. It's a tropical paradise with no shortage of stunning ocean views and breathtaking hikes. One of the main draws to hiking in Kauai are the sheer number of incredible waterfalls you can see. See below for our Guide to Kauai Waterfalls and be sure to visit them on your next stay!
Wailua Falls
The Wailua falls are arguably the most popular falls on the island of Kauai for good reason. Here you can see the Wailua River cascading over 100 feet into a small circular lagoon below. In fact, this waterfall is so picturesque it was even featured in the opening credits for the 80's hit TV show Fantasy Island. The Wailua Falls are also located just a short distance from the road and there's no hiking involved to reach them.
Opaekaa Falls
Opaekaa or "Rolling Shrimp" Falls, got its name from the freshwater shrimp that used to inhabit the river and could often be seen tumbling down the waterfall. This is another great roadside stop and requires no hiking to access. Be sure to also head across the street to the vista overlooking the Wailua River Valley.
Uluwehi Falls (Secret Falls)
Up for a small adventure? The Uluwehi Falls, a.k.a. Secret Falls, are a great destination and would be a perfect morning or afternoon trip for those who don't mind getting a little wet and dirty. To access, head to the Lower Wailua River where you will either need to rent a kayak or hire a guided tour to take you up the river about 2 miles. After reaching the trailhead, you will then go on a 45 minute hike which can at times be fairly muddy. However, the reward once you reach the falls is totally worth the journey! The Uluwehi Falls tower 100 feet above a beautiful swimming hole where you will be more than happy to jump in after your long adventure. These falls really aren't so secret either, so don't worry about getting lost as you make your way to this waterfall.
Waipo'o Falls
Located in the world famous Waimea Canyon, this incredible 800 foot waterfall should not be missed on your next trip to Kauai. While you can see this waterfall from numerous lookout points along Highway 550, we recommend heading to the Waipo'o Falls Trail near the rim of the canyon. This 3.2 mile round trip hike takes you through the gorgeous Kokee Rainforest and gives you numerous great vantage points to look down on the waterfall. This is an easy hike for families with kids and is an excellent stop as you head up 550 into the Waimea Canyon State Park.
Kalihiwai Falls
The Kalihiwai Falls are located between the town of Princeville and Kalihiwai Bay. While you can see the falls from the road, the best way to see them up close is by hiking or taking a guided horseback tour. These multi-tiered falls are a great day trip for those staying at Hanalei Bay Resort and even provide access to some incredible swimming holes near the falls. We highly recommend the guided horse tours which give you a great overview of the local ecology and flora and fauna in the area!
Don't Miss Seeing These Incredible Waterfalls!
All of these waterfalls listed above make for great day trips when you stay at "Resort Name". Be sure to use this Guide to Kauai Waterfalls when planning your stay and we look forward to welcoming you at your next 'Home Away From Home' visit!